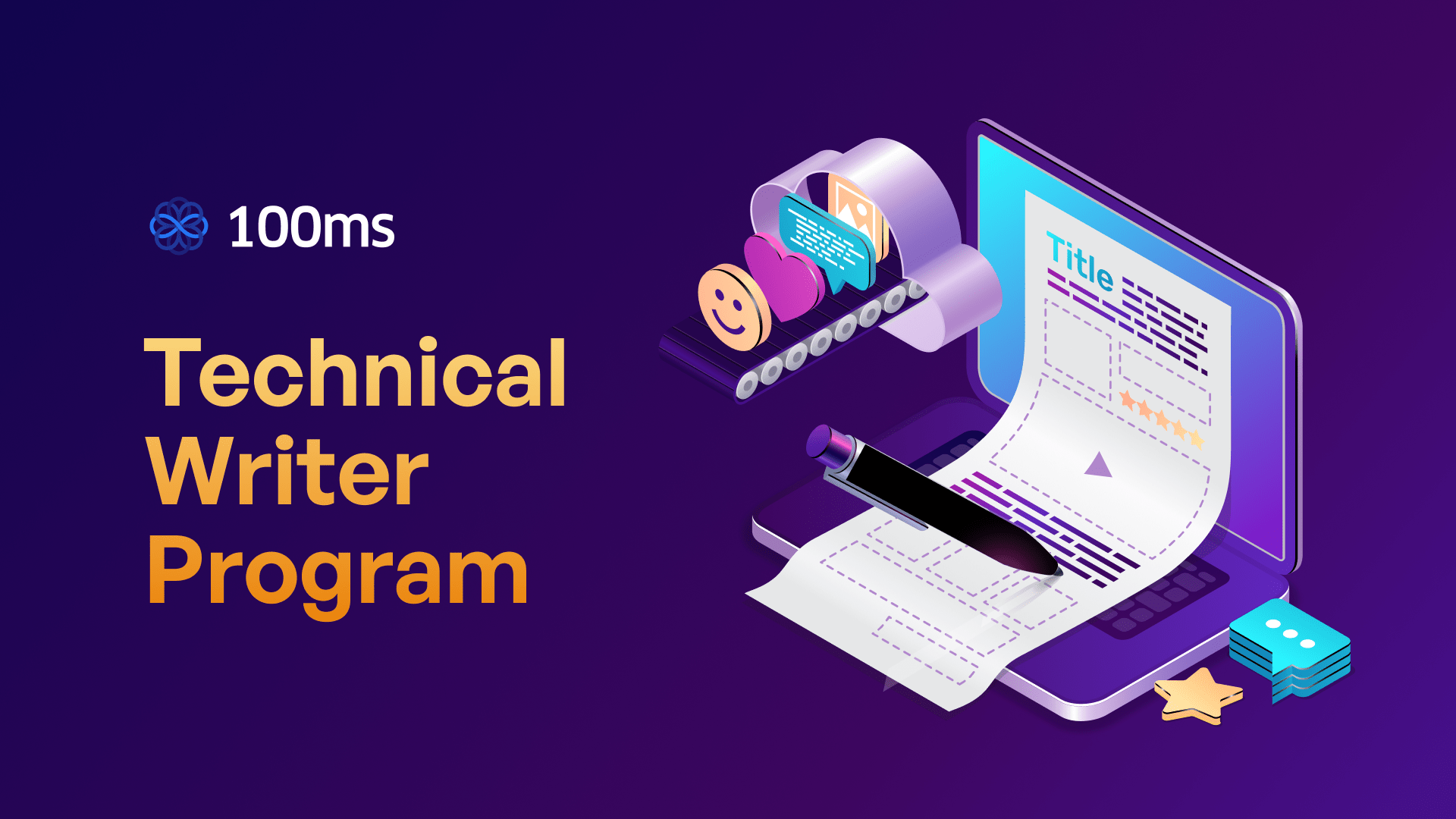 100ms is looking for a technical writer who can contribute to our library of guides, tutorials, and blogs, which features more than detailed documents and attracts top developers every month.
---
Why you should write for 100ms?
We believe you should be paid for your efforts. For each blog shortlisted for our Engineering Blog depending on the scope and quality of each post, we offer between $100-$500.
We'll do the work to promote your content across the web. Hacker News, Reddit, Twitter, LinkedIn, etc.
You get to help other developers. Help give back to the community by sharing your knowledge and unique perspective.
You can still publish your piece on your own blog. We simply ask you to keep it exclusive to us for the first month. Then you can publish it on your own self-hosted blog or portfolio.
What can you write about?
Guides on building applications with 100ms SDKs
Tutorials - Understanding technology and its capabilities
How-to Guides - Guides that result in a ready-to-use product
Overviews - Conceptual overviews of a technology
Troubleshooting - Help guides for a given technology
How is the publication process?
Apply, collaborate, write, revise, publish, and repeat.
Apply: Apply to the program with your topic idea, an outline of your content, and a sample that showcases your ability on the topic.
Collaborate: If accepted, you'll work with the editorial team to refine your topic and have a clear outline.
Write: Once your topic is approved, it's time to write. We provide any required resources, to help you get started.
Revise: After review, you will be asked to make any changes necessary before the blog can go live.
Publish: We publish your content and promote it across the web. Hacker News, Reddit, Twitter, LinkedIn, etc.
Repeat: Build a relationship with the editorial team by suggesting new articles that you want to write.
For copyright reasons, we can't publish content that has already been published elsewhere.
What are we looking for in an author?
We're looking for a diverse group of strong technical writers with demonstrated experience in the topics we're publishing. You'll have written before, and are comfortable receiving feedback on your writing during the publishing process.
Our readers have a wide range of skills, but we're looking for authors who can write for beginning and intermediate developers.
Who Owns Your Work?
You do! You grant 100ms an unlimited license to publish and promote your post, but you retain full ownership.
This means you are free to re-publish elsewhere (on your own Medium page, for example). All we require is that you add a rel=canonical tag to your post wherever possible, naming the original post at 100ms the canonical URL.
Build your own Audio Video Application with 100ms
Share your app with other developers on 100ms Discord server
---
Top Post by the Community