Learn how India's largest social community platform improved its in-app call completion rate with the 100ms live video SDK.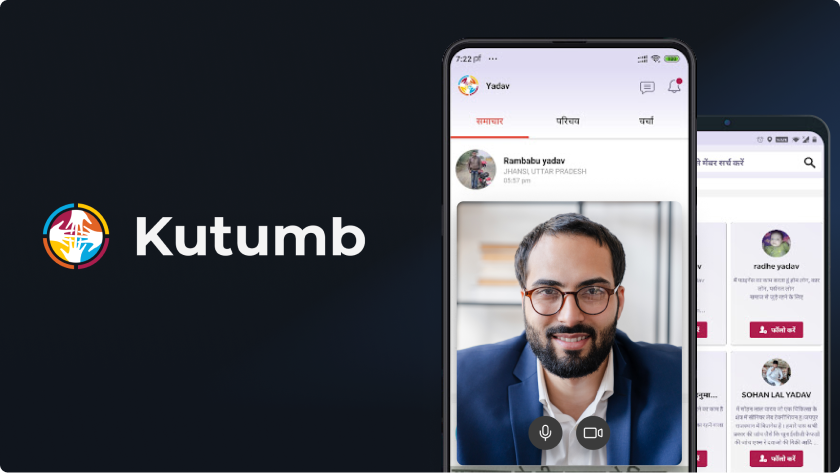 Kutumb is a private social network purpose-built for the underserved regional communities in India. The platform enables users to create their identity within their community by making it simple to connect with the community members, share news, interact with other members' posts, and discuss the challenges affecting them.

The Bengaluru-based startup was founded in July 2020 by Abhishek Kejriwal, Naveen Dewangan, Vipul Allawadhi, and Mohit Sharma to help Indians share their thoughts and opinions in regional languages and connect with their community. The platform boasts over 5 million app downloads with over 27 Million Daily Active Users.

"My co-founders and I wanted to make a difference for the underserved regional communities in India. Originating from smaller cities ourselves, we know that people in these regions are very community-driven, but western products like WhatsApp & Facebook groups don't fully cater to their needs. That's how Kutumb was born."

Vipul Allawadhi

Co-Founder, Kutumb
Kutumb could grow its user base exponentially thanks to building custom features that enabled communities to emulate their offline structure on the platform with features like discourse feed, ID card, and more. But it couldn't build a highly requested feature on its own — live video.

At the time, community leaders ran panel discussion-style conversations using online meeting platforms like Zoom or Google Meet to connect with the members. But these platforms consumed a lot of bandwidth and didn't offer the moderation tools needed by the community administrators.

Engineers at Kutumb found out that while building a live video feature in their app with technologies like WebRTC was reasonably straightforward, ensuring the delivery of high-quality video to thousands of concurrent viewers was hard.

To create a reliable streaming solution from scratch, engineers at Kutumb would need to invest resources in building everything from the front-end to acquiring cloud storage space and writing client-side software to support multiple browsers, devices, and network conditions.

Rather than building the solution from scratch, Kutumb chose Agora, an audio/video SDK, to build an audio-only live streaming feature in its app, but they bumped into some issues:
"Audio calls using Agora were not working for us. We had to implement every hardware-level edge case ourselves through low-level code. At Kutumb, our forte is building scalable applications, not writing low-level code to make live video work."

Vipul Allawadhi

Co-Founder, Kutumb
Edge-case management
The team had to spend 3 weeks fixing and updating low-level code, keeping in mind the edge cases in terms of user's device hardware, network quality, display variations, android version, and more.
Participant limit
Agora supports smaller rooms with up to 17 hosts in a call, limiting the number of hosts Kutumb could allow in their live streaming feature.
Voice quality
Despite investing weeks in development and QA to get the feature rolling, the team had to contend with an over 3% call failure rate. Pilot users complained about connection issues and poor audio quality.
The team had to pull the live audio streaming feature from its app just under a month after launching it.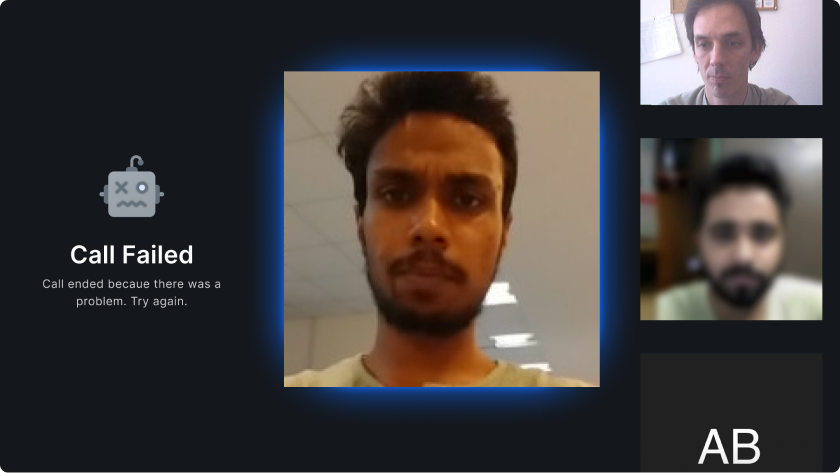 Taking down an already live feature didn't sit well with community leaders and members. Getting an overwhelming number of calls and emails from disgruntled users made the team aware that they had to bring back live conversations to the platform while ensuring this didn't affect the ongoing work of scaling the company.

They looked at competing products, but in the end chose 100ms because:

Time-to-market
100ms offers a pre-built web apps that can serve as a base for you to build live features in your app. The SDK abstracts publish-subscribe logic into roles, allowing you to define your app's business logic quickly.
"We didn't want to expend months of engineering bandwidth just to deliver a broken user experience again. Our tech lead reviewed 100ms' documentation, played around with the product, and was able to build a PoC in 3 days."

Vipul Allawadhi

Co-Founder, Kutumb
Reliability
The SDK manages audio/video edge cases such as device optimizations, disconnections, network switching, and degradation on its own so that you can focus entirely on shipping new features.
"With Agora, we had to spend hours analyzing the problems faced by our users, reviewing the excruciating documentation, and writing low-level code just to have something break again. But with 100ms, everything just worked."

Vipul Allawadhi

Co-Founder, Kutumb
Audio quality
100ms SDK delivers high-quality 32 Kbps audio, providing natural audio reproduction even in low-bandwidth connections.
"With 100ms managing the back-end, our users started reporting a far better audio experience which boosted our call success rates to over 99.5%."

Vipul Allawadhi

Co-Founder, Kutumb
Product support
The support and customer success teams offer a service level agreement guarantee with 24/7 support across instant messaging, community, and live 1-1 calls. Our video experts often guide product managers at customer organizations on building live experiences in their apps.
"We've had close support from the 100ms team while integrating the product and post going live. Thanks to the constant support, we could iterate the feature quickly and be able to go live in under two weeks."

Vipul Allawadhi

Co-Founder, Kutumb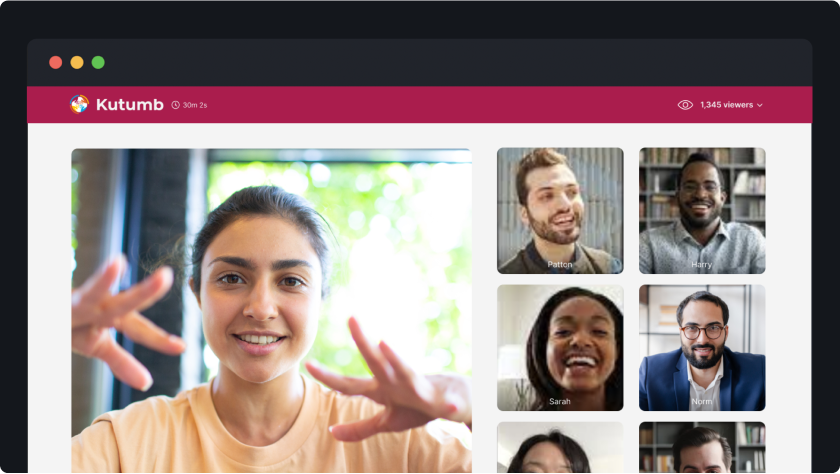 With 100ms, Kutumb built the live audio streaming features in its app to go live in under two weeks.
Here's how Kutumb has benefited from using 100ms:
1 Million minutes - Consumed / week
2 weeks - Time to go live
55,000 Daily Active Users for Video Streaming
99.5% Call success rates
"Kutumb's user base spans millions of daily active users across devices and a range of network conditions. We faced integration and reliability issues with other providers and couldn't scale our video rooms feature to all our users. 100ms' SDK allowed us to go live in 2 weeks without us having to bother with reliability issues. Their dedicated slack channel for support worked as our extended engineering team during integration."

Vipul Allawadhi

Co-Founder, Kutumb
With the goal of reaching 200 million users by the end of 2022, Kutumb is doubling down on growth by building new user acquisition channels, scaling the app's infrastructure, and developing user-requested features.
In terms of live features, Kutumb plans to use 100ms to create 'ongoing rooms' where users can spontaneously drop in, have a conversation, and drop out, along with a peer-to-peer calling feature.