Telehealth platforms have to deal with an additional complexity when it comes to designing and building products - users interact with them during a vulnerable, often stressful time. That means a broken experience could potentially have more consequences than rage clicks. If you are building a telehealth platform, it is crucial that you own the experience end to end, video being the most important aspect of it. And Rocket Health is a great case for why bringing video within your core product can serve many advantages.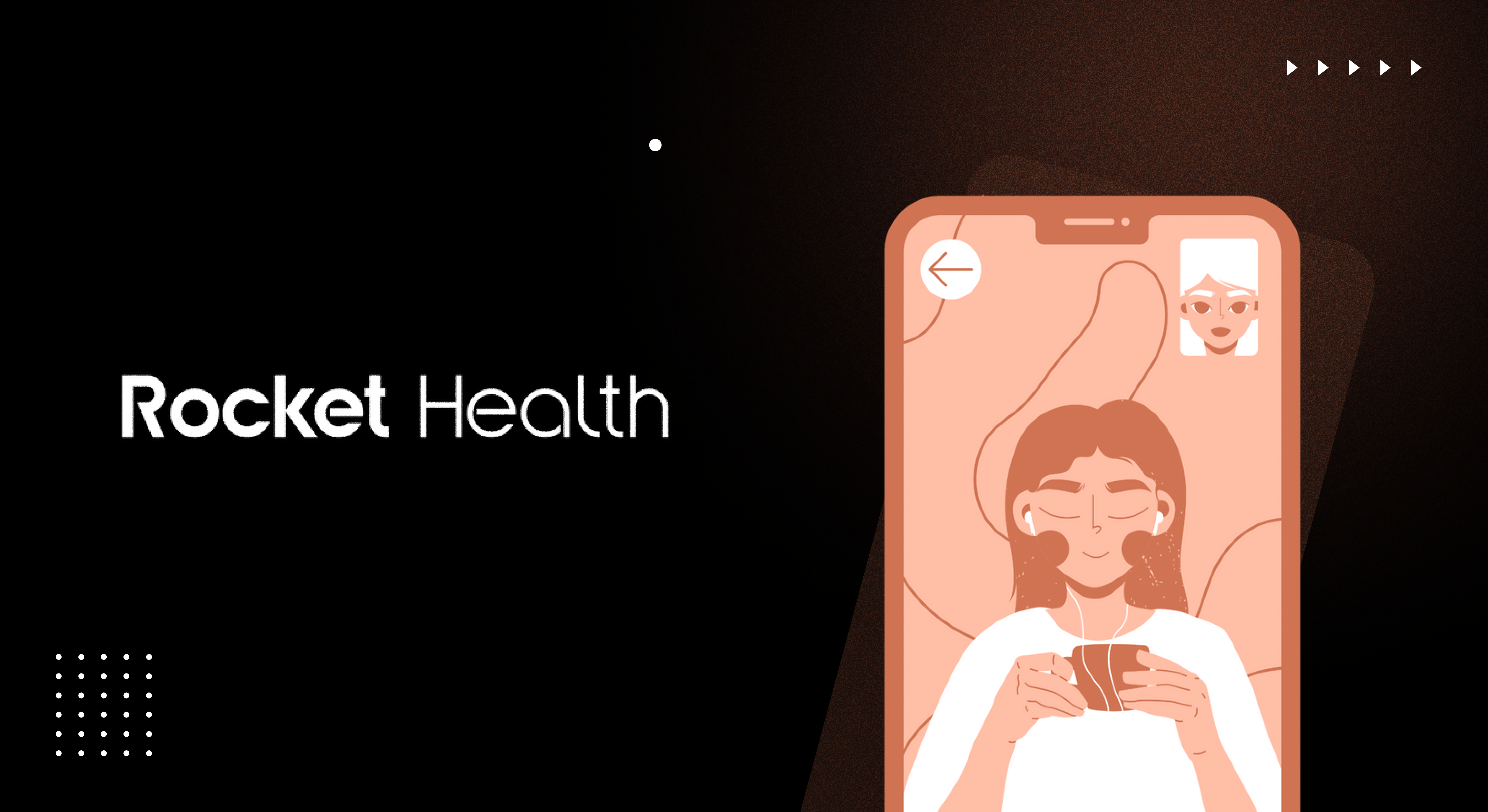 The second wave of COVID in early 2021 wrecked healthcare systems around the world. Millions of people needed doctors, medicines and support during a time when in-person contact was simply too risky. But everyone pitched in to help their communities and brother-sister duo, Dr. Ritika Sinha and Abhineet Kumar, were no different - they launched an online consultation platform to help people seeking a diagnosis remotely. Within 2 weeks, they were assisting 5000+ patients.
Soon, they recognized that a mental health crisis is hitting India, and there is a need for a judgment-free, inclusive space to discuss mental well-being. In December 2021, they launched Rocket Health to do just that.
"I see online therapy bringing down the barrier for people seeking help. You can speak to a professional at the comfort of your own space, be it your home or elsewhere. We wanted to design a virtual care experience that instantly put people at ease and 100ms has been instrumental in that."
This is a story of Rocket Health's journey, how 100ms helped clear their immediate challenges, and why choosing the right technology partner is crucial.
From the get-go, Rocket Health's biggest priority was design and experience of the teleconsultations. But since they had to launch the app as soon as possible, their initial implementation involved pre-built solutions including Google Meet.
Once users signed up with Rocket Health and booked a consultation, they received a call link over whatsapp.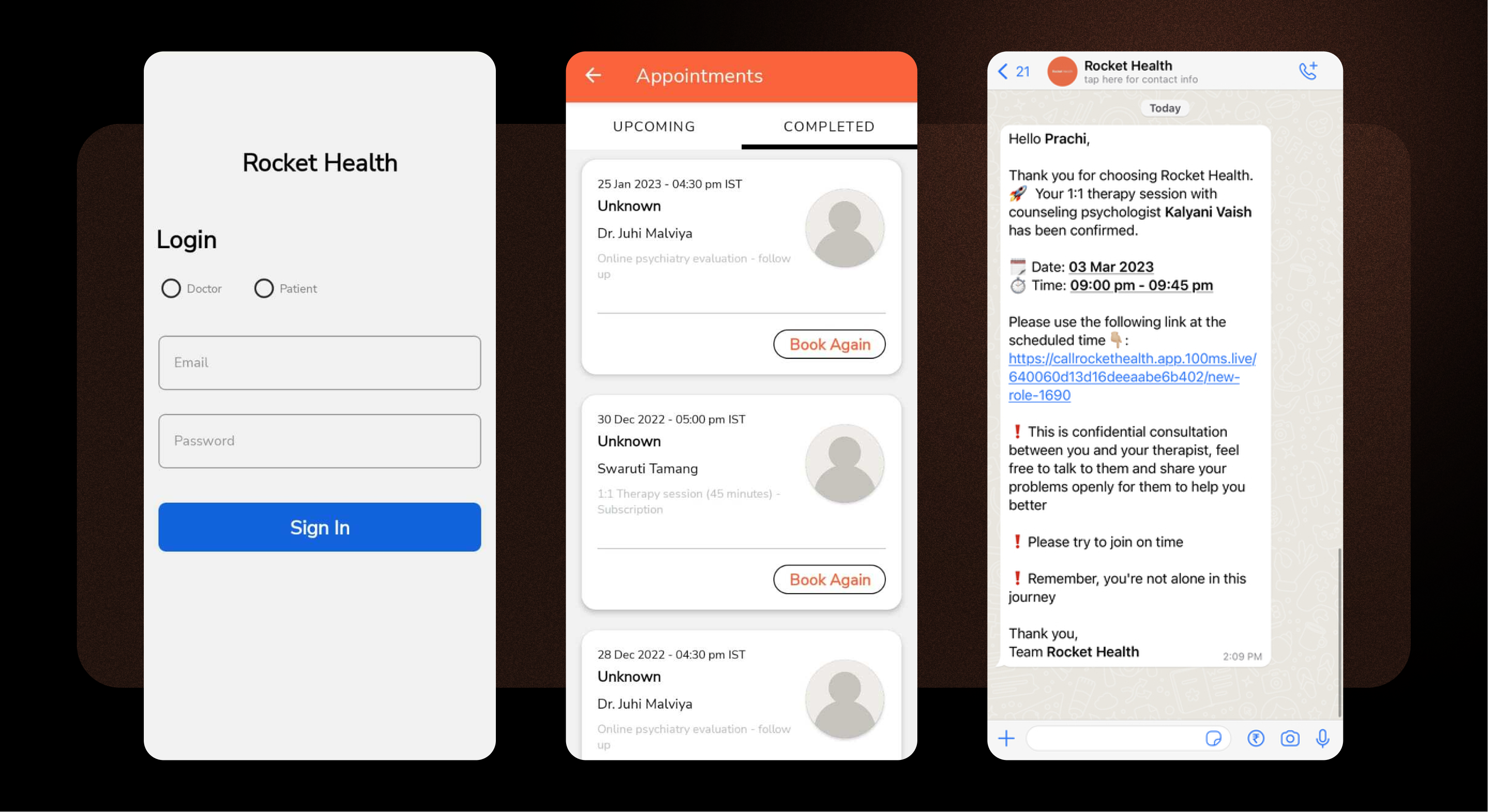 The team noticed that users didn't always join the calls on time and tried to figure out why. But since the video didn't sit inside the core platform, it was difficult to identify the point of failure. The Rocket Health team had to rely on qualitative feedback from both, the care providers and seekers to establish the cause of calls failing:
The links would often break, which meant the people weren't able to make it to their appointments

Depending on the device used, there was an extra app to install which often caused friction
The decision to switch to a custom video solution was made, and the team was evaluating Agora and 100ms.
"Our experience with 100ms has been great right off the bat - the sample app was easy to use and came with built-in UI components. We were able to go live in just a few hours."
Besides speed, what stood out was also 100ms' customization capabilities. It worked great with Rocket Health's existing business logic, and they were able to augment it further by shooting reminders when users didn't join. And since 100ms now granted them complete control over the UI and UX, their product was customized to reflect their brand.
"We have a zero compromise approach towards design: we won't be another boring, blue app. With 100ms, we could customize the UI without additional coding effort. Our care providers love the new look!"
Finally, bringing in video into their core product meant they could access granular session data helps them in tracking the consultation experience on an aggregate level. Earlier, this involved manual effort from the operations team. Armed with this, the team could influence critical business metrics like call joining rate in a meaningful way.
Rocket Health is now doing 100+ consultations a day. They have recently expanded into sexual and women's health as well. They've also added an option where therapy sessions can be gifted. With attitudes towards therapy changing in India, we are excited to see how Rocket Health's future shapes up.
"Therapy is resistive at first, and attending that first call is the biggest battle. I believe our experience-first approach will make a difference in people staying in therapy"