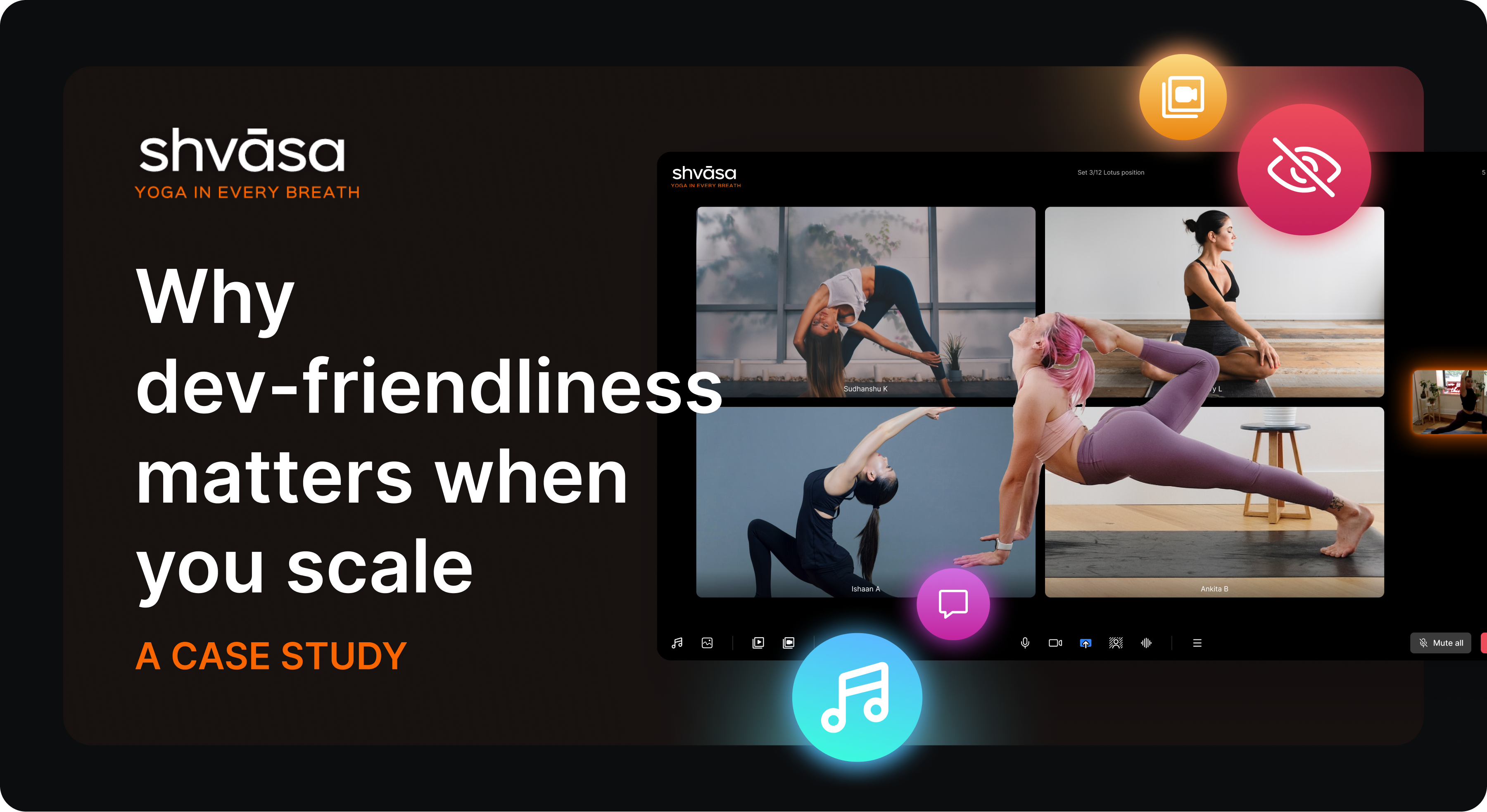 The three founders of Shvasa Yoga have two things in common - a history of founding successful internet businesses and a love for yoga. Arunima Singhdeo, CEO is a certified yoga teacher, Vikalp Jain, CTO has been practicing pranayama for over 15 years and Sumukh Shetty, Head of Product relies on yoga and meditation for his overall wellbeing. They wanted to bring the transformative power of yoga to a global audience, and that is the story of how Shvasa Yoga began in 2021.
Shvasa grew by 10x within one year of launch with 100% of their audience based in North America. It is an excellent case study on why choosing the right video stack is critical as you scale rapidly.
The vision was to replicate an offline yoga studio in an online environment. Shvasa is creating a platform where teachers can focus on giving feedback to their students rather than getting overwhelmed by the technology.
This was especially important in order to prevent any injuries that could occur from poor form/posture. To enable this further, the options for live classes are either 1:1 or in groups of no more than 15 so the teachers can give more attention to every student.
Vikalp has extensive experience building live rooms, thanks to heading tech teams for various successful edtech companies. He knew the importance of personalization, flexibility and white labeling; solutions like Zoom or Google Meet were never an option.
"Zoom SDK is pretty inflexible, and we experienced reliability issues when we were testing out JITSI. We wanted a tech platform that was fully customizable and reliable, and 100ms has been great for that."
The first thing that stood out about 100ms during the evaluation process was its dev-friendliness.
"100ms' documentation won us over. SDK's were available for multiple platforms along with a good library of APIs and ready made UI plugins. It took us about a week to integrate, we loved how easy it was."
The Shvasa team was able to quickly build the studio experience they had in mind. The teachers' tiles are larger and take the spotlight compared to the students. They also implemented custom aspect ratios for users joining in via mobile so that the teacher's tile is enlarged for a better viewing experience. Teachers can also see information about every student during the live class so that they can personalize the feedback.
This was, of course, the basic version of what they wanted to build. One of the key requirements for Shvasa was to have greater control over individual video streams. Using 100ms' Roles, they defined permissions for participants based on their role. Whoever joined in the Guru role could perform actions such as muting a student's microphone, blocking a certain screen, putting someone on spotlight and more.
Role APIs also enabled them to configure basic functionalities like "join as muted", "mute participants when the teacher plays music" among others.
As the product evolved, the team wanted to enhance interactivity between students and teachers beyond the basic video call. They implemented an overlay on the live class UI where the students' relevant info will be displayed on the teacher's screen. This would be helpful for the teacher to make proactive suggestions, such as modifications in a certain pose or posture correction, to alleviate any condition that the student might have.
Shvasa Yoga has added many such features to its core classroom experience in a matter of months and Vikalp credits 100ms' dev-friendliness once again.
"100ms is made for developers - we've been able to build, iterate and roll out features quickly because everything we need is readily available. The support is a huge plus too."
Shvasa is experimenting with voice command control for the teachers, where they can mute/unmute their AV verbally. This would avoid potential disruptions in the class while moving it further towards the ideal studio environment they envision.
They've also rolled out gamification on the dashboard and they're planning to bring it to live classes. In the future, they want to explore workshops and livestreams as well, as an added value for the community they are building.
"The true challenge is removing any reservations people have towards practicing yoga online. If it has to be a practice of a lifetime, it begins with a fantastic experience. We are excited about the possibilities"